Diving in Ras Al Khaimah and the Musandam Peninsula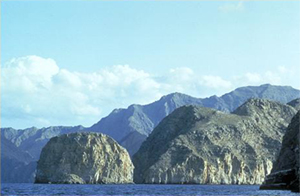 This picturesque environment offers divers and non-divers alike an awing synergy between escaping the everyday hustle and bustle and the quench to explore uncharted grounds.
The Arabian Peninsula
Located in South West Asia at the junction of Africa and Asia, the Arabian Peninsula is limited on the west by the Red Sea and the Gulf of Aqaba, by the Arabian Sea on it's southwest and by the Gulf of Oman, the Strait of Hormuz and the Persian Gulf on the northeast -- all of them teeming with an amazing spectacle of marine life. It comprises the modern countries of Saudi Arabia, Yemen, Oman, the United Arab Emirates, Qatar, Bahrain, and Kuwait.
The Persian Gulf
The Persian Gulf sits on top of the greatest pool of oil reserves in the world. It has extension of some 233,000 km2 with a maximum depth of 90 meters and an average depth of 50 meters. The Gulf is connected to the Gulf of Oman in the east by the Strait of Hormuz. Good fishing grounds, extensive coral reefs and abundant pearl oysters are just a few of the many things you could find in this inland sea.
The United Arab Emirates
The UAE has transformed itself into an Arabian success through a mix of oils profits, stability and a sharp eye for business including the tourism development. Dubai, Abu Dhabi, Ajman, Sharjah, Ras Al Khaimah, Fujairah and Umm Al Quwain form the UAE each one bearing its unique characters. Its waters host over 1/3 of the world's 80 species of whales and dolphins, between 700 species of fishes and 4 reported species of turtles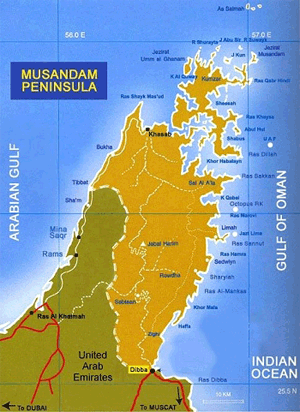 The Musandam Peninsula
Ras Al Khaimah
Ras Al Khaimah covers 1,684 km2 ranking fourth among the seven Emirates in terms of area. It's 55 km of white sandy beaches along the coast line, the Majestic Hajjar mountainous chain, the never ending breeze and it's distinctive local culture makes this Emirates a must visit on the tourists list.
Diving in Ras Al Khaimah
The UAE waters host over 1/3 of the world's 80 species of whales and dolphins, among 700 fish species and 4 species of turtles all of them reported to have nesting areas around Ras Al Khaimah.
Most coral reefs and coral formations are found in areas between 7 to 12 meters deep along the coast, making it suitable for snorkelers, beginner divers and for those interested in macro fauna photography. Stingrays, moray eels, lizard fish, scorpionfish and stonefish, schools of yellowtail barracudas and Indian mackerels are always spotted in these dive sites.
For adventure divers, Ras Al Khaimah offers a series of wrecks found between 20 and 40 meters of depth . Acting as artificial reefs, these wrecks host from the large Malabar grouper to the small hawkfish, schools of snappers, a large variety of invertebrates and the occasional visitor from the blue.