Welcome to Arabian Diver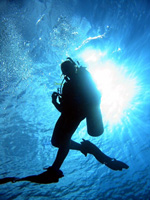 Scuba Diving Adventures
Ever feel like escaping from the hustle and bustle of the city? Well, Arabian Diver offers a unique concept by fusing together 5 star luxury with scuba diving excursions.
Arabian Diver, based in Fujairah and Dubai represents a number of world-renowned, innovative associations such as PADI and IANTD, and brands such as Beuchat and Cochran which compliment Arabian Diver in offering solutions for company excursions, holiday seekers, and youth contingencies.
The Way We Work
Arabian diver offers a range of coorporate team building programs to help inspire and rejuvinate your staff and clients. The programs will employ a number of powerful experiential activities designed to infiltrate the desired outcomes. This process will trigger the participants' thoughts to come up with solutions to tackle similar challenges they face in the work environment. Learn more by CLICKING HERE.
The programs are designed to focus on: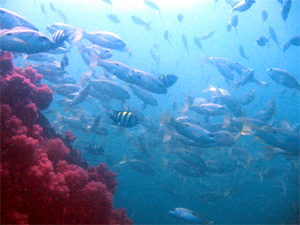 A school of fish in the waters of Ras Al Khaimah. More...
A "Conscience Guest"
And with our newly custom-built motor/sailing schooner, our various routes will encompass the picturesque mountain landscape and pristine waters offered by Fujairah. Combining that with our healthy polyglot cuisine - a fusion of both Caribbean flare and Arabian seafood - and our on-board activities, such as environmental trivia and environmental education classes, we ensure that our goal of creating a "Conscience Guest" is complete by each sunset.
---